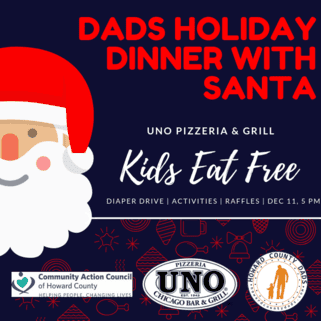 For our first charity event, the results were amazing! You all donated over a thousand diapers and a thousand wipes for families in need. Even better, we did it while having a great time at UNO Pizzeria and Grill in Ellicott City.
We had a great turnout with over a dozen families participating. The kids enjoyed goodie bags, ornament making, and a Santa sighting all provided by UNO's.
Thank You
To the Families
To the families that participated, thank you for everything. This was a great way to end our first year. We'll be sure to do dinners like this on a regular basis. Chime in on the comments to let us know what you thought about the event and how we can improve at our next one.
To UNO's
Thank you to our partners in this event. UNO Pizzeria and Grill in Ellicott City, we appreciate your passion for giving back to the community and partnering with us to advance our mission to connect and empower dads.
Community Action Council of Howard County
The Community Action Council of Howard County made it crystal clear where there was a need and how we could help. Thank you for enabling us to directly contribute to local families in need.
Dylan once again did a great job pulling together the logistics on this with the helpful UNO's staff. He's always pushing Howard County Dads to new heights. He planned our initial Dads Night Out, was the mastermind behind playground meetups, and now set the bar high by putting on our first family dinner event. Thanks Dylan!
Be like Dylan. If you have an idea that we should consider, email it to theDads@howardcountydads.com.