On the Hunt for HoCo's Best Donuts
The first Saturday in April we set out to do a donut tour to find the best donut in the area. We decided on the following places:
1. Touche Touchet Bakery and Cafe — a French bakery & cafe that is based in Columbia, but just opened an Elkridge location.
2. Carlson's Donuts — a small donut shop in Severn, this is chartered as a hometown favorite for the Anne Arundel County crowd
3. Laurel Tavern Donuts — a cozy donut shop in Historic Laurel that is known for its donuts and sliders.
The list ended up being a spread triangle on the map, so I'll review this by judging if it's worth traveling out of your way to get these over whatever bakery is closest.
Full disclosure: We reached out to each of these establishments to give them a heads up on our donut tour. We only got a response from Touche Touchet & they offered us a 10% discount on our order.
Touche Touchet Bakery and Cafe
I admit the name is weird, as I'm not up on my French. Upon entering, I was impressed by the welcoming vibe, large seating area (great bonus for parents at bakeries). The customer service and pastry presentation were of high quality. The worker sold us on the beignets because they are deep fried by the order on weekends! We ordered 1 raspberry filled and 2 plain beignets, and one of each of their 5 donuts (glazed, sour cream, blueberry, apple fritter, glazed with chocolate). The beignets were brought to our table and they were excellent, hot and fresh! The traditional donuts were good as well.
Bottom Line: Touche Touchet had the highest prices out on this tour but it was a much better experience. They're worth driving across town for, especially on weekends when beignets are served fresh. Out of the three, we this place was the best.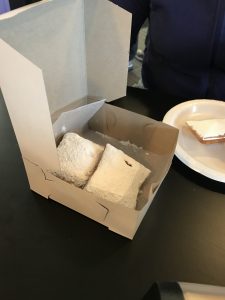 Carlson's Donuts
Close it!!! A Cash only sign greeted me at the door and I was immediately in a panic because who has cash these days, luckily my sister had a twenty dollar bill in her purse. When I walked inside the building, I was taken aback by Carlson's filth (I wouldn't be surprised if the shop was shut down next week by the health inspector) and lack of selection of donuts at 9:30 am on a Saturday morning. Apparently, they are known for having a sparse selection before closing time of 11 am. The three trays of donuts that were made did not look appetizing and the cashier could not recommend their best choice. Against my better judgment, I decided to buy one of each kind of donut (all of the selection that they had), and I will admit I was pleasantly surprised. The apple fritters tasted better than I expected from a place like this. Overall, I would not recommend this shop to anyone who lives more than 10 minutes away.
Bottom Line: Out of the three, this place was the worst experience.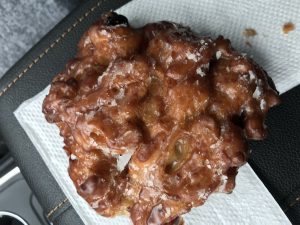 Laurel Tavern Donuts
This is a cute little shop in the mix of Historic Laurel. However, I was swiftly distracted from the building's charm by a large sign in the front window that was carelessly modified by black tape. It read: Gourmet Coffee! I stumbled in only to chuckle at the break-room styled self-service coffee machine….Anyway, that's not why we are here. This is about the kids & donuts so I'll get back to the business at hand.
Upon walking in, it was clear this place had a lot more options than any of the others. There was steady foot traffic but not crowded. You could fit 5-8 customers in the store and there was one small table with two chairs. Good enough for the kids to sit and people watch while waiting.
We got a half dozen assorted donuts and 3 sliders as lunch time was creeping up on us. The sliders were really tasty and made to order, but that meant we had to wait almost 10 minutes.
Their glazed donut was the best out of this bunch. It was extra soft – not too dense, not too light. It was fluffy and tall with the right amount of glaze. It just tasted really fresh. Their other donuts were just okay, on par with the rest of the bakeries.
Bottom Line: I wouldn't recommend anyone go out of their way to go here. They're okay and better than Dunkin, but I would not drive across town the county for these. Out of the three, this was runner-up.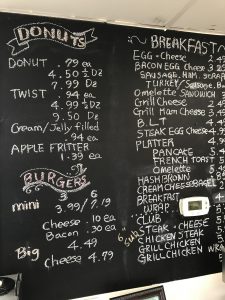 Overview
To sum it all up, we don't have a ton of great options but we do have an amazing one with two locations, Touche Touchet!
Is this something you'd like to try with your kids? Go for it! Remix it by trying out donut shops in DC or Baltimore. Try doing a cupcakes tour instead. Let us know what you try and how it works out.