Okay, so for those of you who have followed the Howard County Dads blog or Facebook page for a while, you all know that I'm the crazy Dad who bring his kids to do just about anything. Whether it is going to 30 baseball games in a season, 2,500 mile road trips, or out on 6 mile hikes, I am always out with my kids doing something.
One of the things that I started doing a few years back was introducing my children to live music. I did not just limit this to Kidz Bop concerts or listening to cover bands a local summer festival. Nope, I wanted my kids to experience some of these living legends of classic and hard rock before they are gone.
Where to Start?
This is always a good question and something that you really need to decide based on your kids. My kids grew up in a house where the classic rock station was always on the radio in their playroom. We opted for that instead of tot songs, mainly for our own sanity (who wants to hear Baby Shark a million times?), but also because I believe rock n' roll is a dying art that many in the younger generation just do not understand. So I look at it as my duty to pass the torch of legendary rock onto my children. They love it so much. In fact, when a classic song comes on, they reach for their play guitar to jam out to the song with me.
Your children may be different. The may have different interests and likes in the music world. And that is okay. Maybe the do like tot music. Maybe the like pop. Maybe they grew up with a heavy dose of Baby Einstein and love to listen to classical. All if it is a-okay if it makes them happy and appreciate music.
Some days I just feel like I hit the jackpot in that my kids like KISS, Black Sabbath, and Queen. So those are some of the bands that I explore with them.
Kids First Concert
This is a difficult decision to make. When is it appropriate to take a child to their first concert and who should it be?
Well in my case, contrary to what most people believe, I did not start out with Black Sabbath. Instead, I opted to take my kids to see the Frederick Road Fridays in Catonsville, Maryland. That way I could get a good feel for how they react to music that is quite a bit louder than what they hear in the house or in the car.
For those who are not familiar with Frederick Road Fridays, I will say they are fantastic, free concerts that take place in the summer. Taking place every Friday night (weather permitting) from June through August at 15 Mellor Avenue in Catonsville, Maryland, these free concerts are held at an awesome family friendly venue and bring in a wide range of musicians to play. Located just outside of the legendary Peace of Pizza, crowds line up early get a good spot to spend their summer nights rockin' away. As an added bonus, there are always kids activities like face painting, reasonably priced adult beverages, and most importantly other families there to hang out with. It really is a great, free opportunity to see how your little one(s) will react to live music.
Big Time Concerts
I will say one of the best features of living in this area is the accessibility to great live music, especially summer concerts. Whether it's a huge national act showing up in our backyard at Merriweather Post Pavilion, down on the Baltimore Harbor at MECU Pavilion (formerly Pier Six Pavilion), or heading up I-95 to BB&T Pavilion in Camden, New Jersey, there are a lot of amazing live outdoor venues in this area if you think your kid(s) are ready to step it up to the next level and see a national act.
Look, I know this is a stressful thing. You think "oh my kid cannot sit still for that long" or "my kid will be so bad and no one wants to listen to them the whole concert." All of that may be true, but with that said, concerts are loud. Unless you are going to go to a classical music show, people are there to enjoy some loud music and will never hear your child asking you questions. So it makes a perfect place to take your little ones.
The first real concert I ever took one of my kids to was Black Sabbath in Camden, New Jersey. I am a huge Ozzy fan, spent waaaay too much money, and got us seats about 16 rows from the stage. Both my daughters have grown up on a very healthy dose of Ozzy and Black Sabbath. They like it, they recognize it when it is on the radio, and they even sing along. So when I heard that Black Sabbath was touring for the last time, I felt it was time to bring my oldest (she was 4 years old at the time) to see Dad's favorite band of all time. Needless to say it went off without a hitch. She absolutely loved it. After that, she kept saying "Dad, when are we going to see another concert?" She got bit by that live music bug that I got bit by a long time and I now I have have a life long concert buddy.
Tips to Bringing Kids to Concerts
Over the years, I have talked to many parents about bringing their children to concerts. Here's some tips that I have passed along to other parents when it comes to bringing a kid to a show.
Tip 1: Use hearing protection – I have gone to well over 500 concerts in my life and my hearing is shot. Your kids have a long life ahead of them and hearing protection is a must. I find with the little ones that the "ear muff" style of hearing protection is more comfortable for them than the disposable ear plugs. You can buy a cheap pair at Dick's Sporting Goods for $15.00 and they will also come in handy for anything loud you may take them to going into the future (think Monster Jam).
Tip 2: Make sure it is a band that your kid enjoys – I have been to some epic concerts over the years. However, I know that my kids would not feel the same about these concerts as I feel. Do some research on the band you are seeing and make sure that it is something you think your kid would enjoy. Example, I love Chris Robinson Brotherhood and that band puts on some amazing live performances. However, some of their shows go on for 3+ hours. This is a long time for little ones and I know my girls would be miserable. So I just do not take them to see shows like this.
PRO TIP ON A GREAT ROCK BAND FOR KIDS: Last summer we saw Imagine Dragons play in Camden, New Jersey. My wife and I are not big Imagine Dragons fans. However, my kids really like their music, so we bought them tickets. If someone were to ask me what rock band I would bring a small child to see live, hands down, I would say Imagine Dragons. There were sooooooo many children at the concert and they put on an amazing, clean show that all the kids really enjoyed.
Tip 3: Get aisle seats – This comes in handy for any event in which you bring a little kid and you have assigned seats. Kids have small bladders and short attention spans. You are going to have to get up multiple times to go to the bathroom and/or get a snack. It is much more enjoyable for you and the people around you if you sit on the aisle and can easily come and go as you please, without interrupting those around you. Aisle seats also help with children's sight line to the stage as well. They can step out into the aisle and usually have a clear view of the stage.
Tip 4: Lawn seats are another good option – Most outdoor summer venues have lawn seats as an option. The downside is that the view of the band you are there to listen to is not that great (Merriweather Post Pavilion has horrible views of the stage from the lawn due to a bad slope in the lawn). However, most venues have video boards showing closeups of the performers and the lawn does allow your little ones to wander or lay down. The laying down part is particularly good if the concert goes late into the night. Plus hearing protection in the lawn is optional.
Tip 5: Bring a change of clothes – I say this with just about anything, but always have a change of clothes on hand any time you go to an event with your kids. There is nothing worse than a kid having an accident (either a bathroom accident or a spilling of food) and not having a change of clothes. Many of these venues do not have "in and out" policies, so once you leave to get a change of clothes, you are not getting back in. Plan ahead and do not be that Dad who needs to leave during the opening band because your kid spilled a Gatorade all over themselves.
Tips 6: Bring a water bottle – Most venues will either let you bring a water bottle, a bottled water that is not open, or will actually give you a cup of ice to fill up with water in the fountain. Hydration, especially in the summer, is no joke. Do not end up with a dehydrated little one on your hands. It will make your whole concert experience miserable.
Tip 7: Research the venue – Venues are weird. Some allow bags. Some do not allow bags. Some only allow clear bags. Do not be the Dad who walks a half a mile from the parking lot only to find out that the diaper bag is not allowed inside. Do your homework. All venues have policies on their websites on what is and is not allowed in.
Tip 8: Have fun and do not worry if you miss some of the show – Take it from me, you are going to miss a song or two during the show due to a bathroom break or the kid needing to get some water or wanting to walk around. It happens. If the band you want to see is your all time favorite band and you absolutely cannot stand to miss a single second of their performance, then you best leave your kids at home. Kids need to get up. They ask questions. They will disturb you during the show. As long as you realize that going into the show and do not get mad at them for any of the above actions, you all will have a great time.
Tips 9: Concerts shirts are fun for kids – Sure they cost an arm and a leg, but once in a while you will find a concert shirt that you want to buy your child. The smallest size they typically have is Adult Small, but my girls love wearing their concert shirts as nightgowns in the summer. KISS recently had concert shirts for $50. I would have loved to have bought them both a shirt from that concert, but $50 is way too much. Many other bands will sell shirts between $25 – $30. This is a fair price to get them a piece of that concert that they can likely wear for the next 7-8 years and maybe longer!
Tip 10: Take lots of pictures – The first hard rock show that I ever went to as a kid was in December 1989. It was Motley Crue and Warrant in the Worcester Centrum in Worcester, Massachusetts. What I would give to have some pictures of me and my parents at that legendary tour. Make sure when you go to these concerts, especially the classic rock bands, you document your kids being there with some pictures. Truth be told, by the time my daughters are teenagers, I am sure half or more of Black Sabbath will be dead. How cool is it that I have a picture of my oldest at a Black Sabbath concert for her to show her friends someday. That would be like if I had a picture of me at a Led Zeppelin concert. Pretty epic if you ask me!
The Bottom Line
Walking out of the KISS concert last week with both my daughters, they said "Wow Dad, that concert was amazing! Thank you so much for bringing us! You are the coolest Dad ever." That is a great thing to hear and makes you feel good. However, what is even a better feeling is knowing that you made an amazing memory with your kids that they will remember and cherish for the rest of their lives.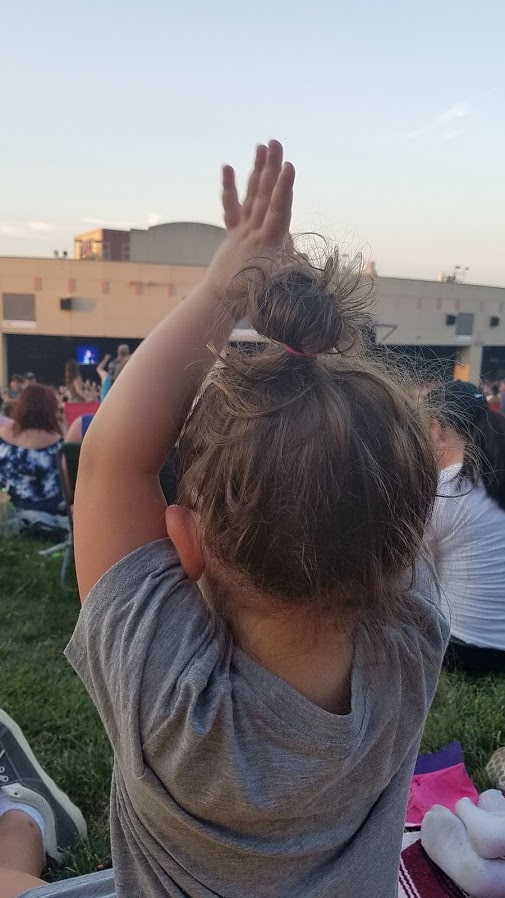 Rock n' roll will never die. However, there may be a time in the near future that all the legends are no longer alive and your children will only be able to experience them through their recorded music. Do them a favor, take them to see some great rock legends while we still have them here on this Earth. They may not fully appreciate it now, but it will be a memory they carry with them for the rest of their lives.