Rocky Stream Bed Trail Loop in Frederick Municipal Forest on AllTrails: https://www.alltrails.com/trail/us/maryland/rocky-stream-bed-trail-loop
Difficulty: Moderate due to rocks and crossing stream several times.
Length: 2 miles
Recommended Age: At least 5 years old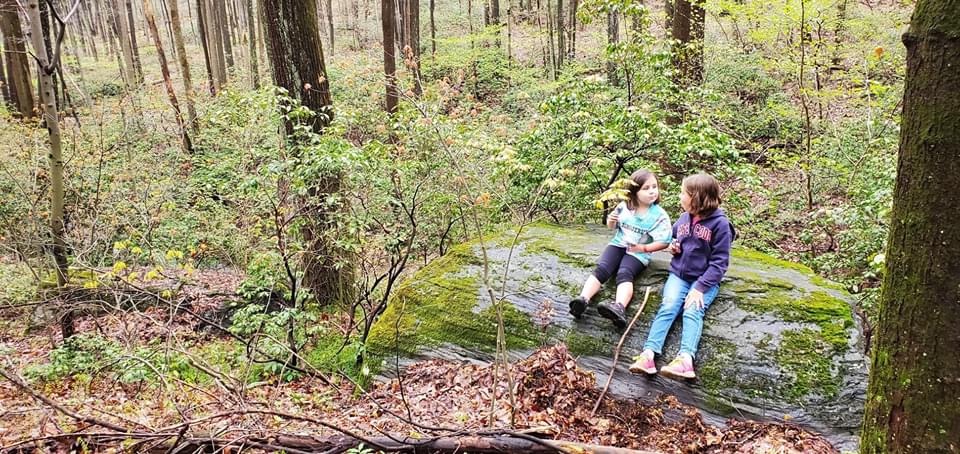 I did another hike today with my daughters (8yo and 5yo) since the weather was crappy and I figured a lot of people wouldn't be out. We did the Rocky Stream Bed Trail Loop in Frederick Municipal Forest. This was another really fun hike that my daughters loved. Some of the highlights were:
Hopping on rocks to cross over a stream (more like a river due to the rains) and all three of us falling in at one point and soaking our feet. This was absolutely hilarious to them and also provided them with a pretty cool. adventure fix.
Finding an absolutely enormous Skunk Cabbage patch being fed by a natural spring near the top of the trail. Honestly, I've never seen anything like it.
Girls learning about counting rings on a tree to find its age on a 70+ year old tree that had been cut by a chainsaw.
Finding some really nice large marble rocks in the woods along with some mushrooms, tons of moss, woodpecker ravaged trees, and fiddlehead ferns.
Overall it was short, but challenging hike for my girls. As usual, we spent a couple hours out there exploring and they had a blast. Word to the wise, it is rocky and you cross over a stream several times. If it has recently rained, it's very slippery as there is a lot of moss out there. With that said, I probably wouldn't bring children under 5 years old on this hike. I'd also make sure to bring a change of clothes, shoes, and socks, not just for the kids but for the adults as well. You all will get wet. That makes it all the more fun. Like the other hiking reviews I've done, I highly recommend this hike to others in the Dad's club. Especially if your kids are in the 5-10 year old range.