If you're not from the Mid-Atlantic region, you may not know about the gem that is Dutch Wonderland. As their website boasts, "[s]ince opening on May 20, 1963, Dutch Wonderland has consistently been recognized as a premier family theme park in Pennsylvania, and has been voted one of the Top 5 Best Kid's Parks in the World by Amusement Today magazine. We invite you to plan a visit to find out why generations of families have visited us and proclaimed us to be A KINGDOM FOR KIDS!" In particular, Dutch Wonderland's niche is "appealing primarily to families with small children" (Wikipedia).
The kingdom theme is fun for kids and the park itself really caters generally to kids under 10 years old or so. While many younger tots can be found around the park, I would say that the real value for it being "worth the trip" probably starts for preschoolers (around 3). As our resident Dutch Wonderland expert, Brenton MacAloney – a season pass holder for over 6 years – explains, Dutch Wonderland has been a longstanding and constant hit with his girls. "Dutch Wonderland continues to be a favorite of my family and has been for years," says Brent. "I started bringing my children there as soon as my oldest started walking, about 8 years ago, and we have gone every year since. No matter how old they are getting, every year they beg to go back to Dutch Wonderland." Shawn Eccleston, another HoCo Dad, agreed, "Dutch wonderland has always been one of our favorite local amusement parks to take our younger children. It has a fun, friendly, family-orientated atmosphere with majority of the rides being for 2-10 year olds."
"Dutch wonderland has always been one of our favorite local amusement parks to take our younger children. It has a fun, friendly, family-orientated atmosphere with majority of the rides being for 2-10 year olds." – HoCo Dad, Brent MacAloney
It's easy to see why. Dutch Wonderland (DW) offers all the best features of an amusement park (rides, shows, a water park) without many of the cons (long lines and endless miles of pavement). Honestly, to me, it has more of a huge "county fair-meets-Rennaisance faire" feel to it, but there's plenty to keep you busy for a full day at DW. We arrived when the park opened at 10 am and the fun didn't stop until we finally left around 5 pm. If you're interested in making it a full day (plus?) you can get a room at one of the multiple nearby hotels; if you do, you can actually get into the park for a few hours the night before! There's also Old Mill Stream Camp Ground right next door if you prefer to "rough it."
Rides Galore
When you get to DW, I would recommend that you start on the Wonderland Special, a family friendly train ride that will take you all around the park. It's a great way to get an early glimpse of all the fun and attractions in the park before you really set off to explore.
---
With over 35 rides and attractions, DW does have a little bit of everything for preschool and elementary-aged kids. As Brent recounts, "Over the years, it seems my daughters (now 9 and 6 years old) had favorite rides they would go on over and over with every visit." The park makes gauging appropriateness for your little ones pretty easy with a gem-themed, color-coded scale based on height that ranges from <36" (blue) to >54" (ruby), as well as providing an Intensity Guide.
Brent remembers that when his girls were toddlers, "their favorites were the Frog Hopper, Choo Choo Charlie, and Wonder Whip." Both my sons, 3 and 6 years old, were big fans of all of those too. The little one in particular seemed to just be hitting the right age to really be able to enjoy the lowest-intensity rides, especially when his older brother went with him. But there are lots of low-key, adult-friendly rides as well, including the aforementioned Wonderland Special, the Merry-Go-Round, Sky Ride, and the Gondola Cruise.
As your little ones get older, there are enough rides to grow with them, without the park feeling huge and overwhelming like Disney or Six Flags. For older kids there are two additional roller coasters: Merlin's Mayhem and Kingdom Coaster (both big favorites for Brent's girls). My oldest tried both larger coasters, but wasn't really ready for them; however, he did really like the Joust Family Coaster as well as the Bumper Cars and Turnpike Cars. There's also Exploration Island, where you can walk through the Prehistoric Path and see animatronic dinosaurs; though my youngest took a little coaxing to bear the moving and "roaring" dinosaurs.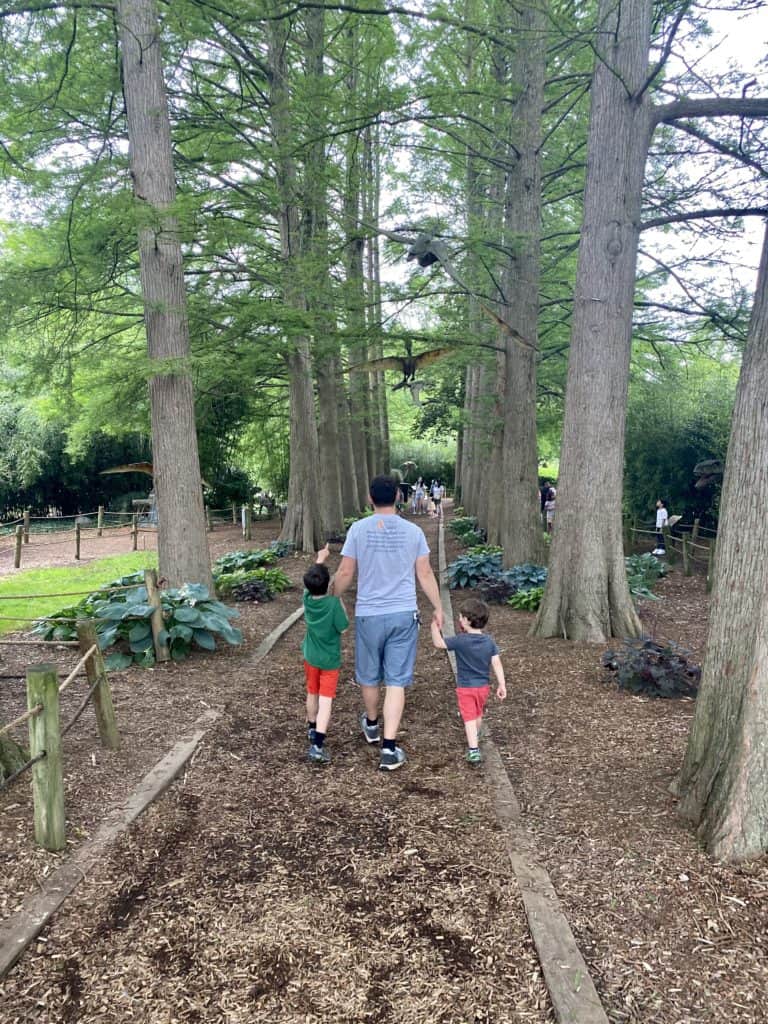 Getting Wet
Another great feature for DW is that there are several water attractions included in the park for those hot summer days. The main one of these is Duke's Lagoon, a sprawling water attraction with multiple ways to squirt, splash, slip, and slide across at least three distinct play areas, including a separate simpler and smaller one for the little ones. Somewhat separated from the "main" park by a few short walking bridges, Duke's Lagoon gives the feel of almost a small water park within the main park. This area also includes the Pipeline Plunge water slide. The main park also features the Double Splash Flume ride.
By far my (and my wife's) favorite attraction was The Aqua Stadium, where multiple diving shows are held each day. We watched "A Dragon's Tale", which was fun – there's also "The Adventures of the Frog Prince" – and "Open Dive", which is essentially just the performers having fun and doing crazy stunts without a story. In any case, this is a fun time and it's amazing to watch some of the things these divers do. However, be warned…if you sit in the red seats at the front of the stadium, you WILL GET WET. (They actually go out of their way to splash you!)
There are of course also fun carnival-esque games and several options for food, several of which actually offer pretty high-quality options in addition to the generic kid staples of hot dogs, chicken tenders, mac and cheese, and grilled cheese.
The Verdict
Overall, as Brent summarizes, "As parents, I think the thing we appreciate the most about Dutch Wonderland is the cleanliness of the park, short lines to get on rides, very reasonable prices (both for one day tickets and season passes), and staff members who are always friendly, courteous and dedicated to excellent customer service." And I entirely agree – Dutch Wonderland is an awesome and special place to visit with your little ones. In fact, Shawn ended his day with a promise of more fun this summer. "We liked it so much we decided to upgrade to season passes at the end of the day and are gearing up for a summer of fun here," he added.
"We liked it so much we decided to upgrade to season passes at the end of the day and are gearing up for a summer of fun here" – HoCo Dad, Shawn Eccleston
**2021 Season/COVID-specific Details**
We visited DW just as things were starting to reopen after the pandemic. Because we visited still pretty early in the season before most schools were out for the summer, the crowds were not very big at all. However, there were still some areas where things felt a bit crowded. While the park advises anyone unvaccinated to wear a mask, we saw almost no kids (who cannot be vaccinated under 12) wearing masks – and very few adults. Also, in lines, like at the Turnpike Cars, there was signage to keep 6-feet between parties along the line, but the "aisles" of the lines were still right next to each other. So you might have no one ahead or behind you for 6 feet, but have someone standing right next to you on each side. Overall, the park has good amounts of open space, so it didn't feel too stressful for us with our little ones, but definitely something to consider.