We attended a special event in June at the Philadelphia LEGOLAND Discovery Center. Each weekend that month, they were celebrating the 40th birthday of the Minifigure.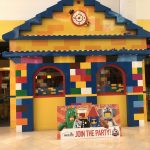 We already wrote a review in March, but this trip was a little different. First, the Minifigure
event added a new spin on the visit. Second, we brought along a special VIP guest, my Aunt Glenda. She's an avid Lego fan, often inviting her grandchildren over for a fun brick building session.
In this post, we'll highlight the differences and the special attractions of the event.
Dance Party
They had Lego characters come out and dance with the kids in the middle of the venue. There were workers dancing and handing out hula hoops as well. This was a really nice surprise and made for a great photo op.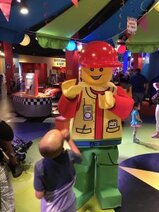 Arctic Adventure
This frozen tundra themed room wasn't a part of the birthday party event, but it was added since our first visit. Once we passed the large polar bear made of Lego bricks, we found a few things in here that kept us entertained for a bit. There was factory machine that moved bricks from a lower pit of bricks to a higher snowman building station.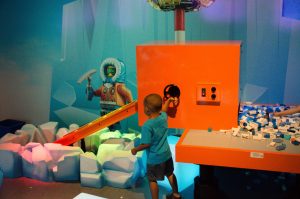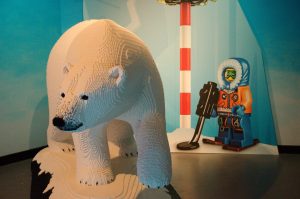 Philadelphia Mini-City was Decorated
Throughout the venue, there were decorations for the birthday event. They built a multi-tier birthday cake. The most notable decorations were the lego balloons placed on building throughout "Mini-City", the Lego build of skyscrapers and landmarks found throughout Philadelphia. There was a scavenger hunt for you to find the Lego Minifigures throughout the Mini-City. Finding them would enter you in a raffle.
I was blown away by the detail put into the city. You could be amazed walking through quickly. However, take a look at any crowd of people and you'll snicker at the scenes and appreciate the attention to detail. As another cool touch, they also updated their model of the Eagles' Stadium, Lincoln Financial Field, to say "Superbowl Champions".
We had a good time going again. Going a second time allowed us to slow down and focus our time where we wanted instead of trying to do everything. Aunt Glenda had an amazing time and has been bragging to her grandkids ever since.