My family (wife and two boys are 4 & 5) and I just visited Dutch Wonderland. This was our second year in a row and it didn't disappoint. It just happened to be National Rollercoaster Day & the first year for their new suspended coaster, Merlin's Mayhem.
The Park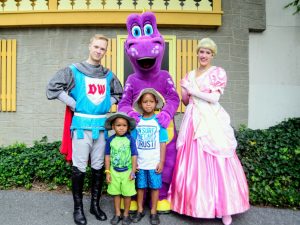 Dutch Wonderland is a family-oriented amusement park in Lancaster PA. It has 35 rides, a water park, and live shows themed around the fairytale castle entrance that you can see from Route 30 highway, right down the street from shopping outlets. It was a 2 hour drive from Ellicott City, so it's a manageable day trip.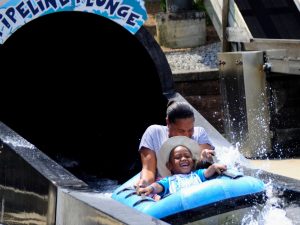 Pro Tip:
You can enter the park at 3pm the day before your visit at no charge. We did this last year to hit all of the rides they wanted. This allowed us to take our time for the full day.
Our Visit
We went to Dutch Wonderland on a Thursday and made it to the gate as soon as it opened, 10 AM. The whole day we waited for the huge crowds and long lines to show up but we didn't have the wait much for anything.
Pro Tip:
You can't bring food or coolers inside the park, but they have picnic tables just outside the parking lot. We always bring lunch in a cooler and keep it in the car.
The Rides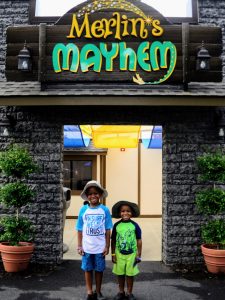 We were really anticipating Merlin's Mayhem, a new suspended roller coaster that just opened in April 2018. Surprisingly, we didn't have much of a wait to get on rides all day. The ride was great because our whole family was able to ride, yet it was the parents that were screaming. On the downside, this ride seemed to just push you down with multiple Gs of force the whole ride. Both of my sons gave it a thumbs down. They struggled keeping their heads up while riding.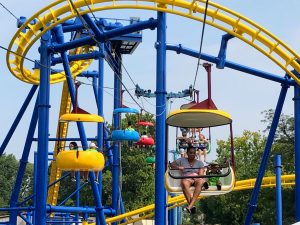 Is that Ride Open?
This was a common phrase this year and last but in different ways. This year there were a lot of rides open that weren't available last summer because Merlin's Mayhem was under construction.
Nonetheless, during this year's trip we found many attractions were closed at opening time (10 AM). Some of them opened later, but there were a half dozen or so that we wanted to ride that were closed.
What do the HoCo Dads Say?
Mike R.
There are discount tickets through HoCo Parks & Rec? Here is the link for discounted tickets at a few different amusement park tickets.
Brent M.
My daughters and I have season passes to Dutch Wonderland and we are there all the time. It's a quick ride up from Elkridge and its great for younger kids (8 or 9 and below I'd say). I've been taking them since they both could walk. For some of the smaller and slower rides, that is the only requirement is that they can walk independently. Plus, until the kids are 3, they enter free.
This year my 6 year old is finally able to get on the large roller coaster and they put a new roller coaster this year that my 3 year old can go on.
Pro Tip
There is a Dickey's Barbecue Pit right up the street from Dutch Wonderland that has a "Kids Eat Free" night on Sunday night. The kids love the pulled pork and rolls there, so we usually stop there after a long day of having fun on the rides.
Overall
We had a great time. We appreciate the size, proximity, and rides at Dutch Wonderland. It's not an overwhelming trip and the kids are able to find so many rides for their sizes. With standard amusement parks the kids rides are sprinkled throughout huge parks with lots of walking.
We're looking forward to returning next summer and possibly for one of their seasonal events in October or December.
Full disclosure: Our family was given tickets by Dutch Wonderland in exchange for our honest opinion.