About Cooper & Kid
Cooper & Kid is out to make dads cooler than moms. They ship activity kits every 3 months for dads and kids to enjoy together. Finally, a company speaking my language: encouraging and promoting engaged dads with new activity ideas? That hits the core of why I started Howard County Dads. See how their deep-sea themed kit hold up to my expectations and for my two sons.
Initial Reaction
As my kids ripped through the box, they didn't know what they were opening but they were really excited. My youngest son is more the drama/theater type, so he was thrilled to see an octopus puppet and a black Charle Chapman style hat. My older son was perked up when he heard the mention of a deep sea robot.
The Cooper Kit – Deep
This kit included 9 activities that lasted us about 4 weeks to get through, on and off. It had much more to do than I expected. Here are a few of the highlights included in this kit:
Light Up Anglerfish Hat
Box Turns into a Submarine Drone Mobile
Mimic Octopus Puppet
Sea Creatures Bedtime Book

and others. . . 
The activity guide is a book that is the center of the kit. It walked us through a story of a deep-sea talent show as we learned and completed projects showcasing the talents of different species. There was also a dads certificate and a "DEEP" collectors coin.
The Angler Fish Hat
This was by far the most engaging and it's still the most played with/used to this day. The kids couldn't wait to make it. We worked on it all morning but needed to stop for a lunch break. It wasn't done yet, and they still wouldn't put it down to eat.
They were deep into this theme (see what I did there?), so I made angler fish peanut butter & jelly sandwiches!

Deep Sea Reading
We built a tent and put on glowing pajamas to make a 'deep sea' environment while reading the books, having snacks, or goofing around.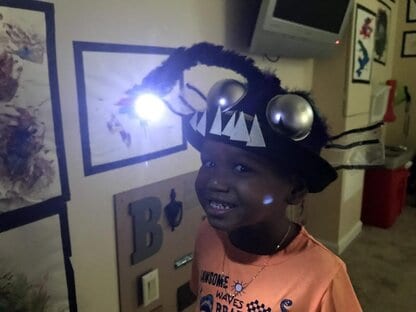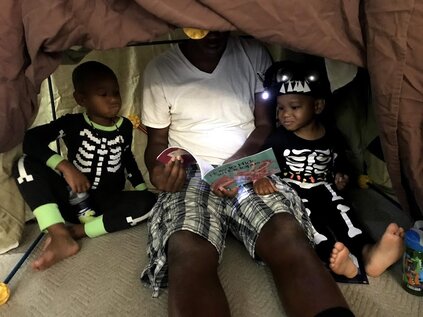 Unexpected Value – Curated Videos
I really got into the explanations in the activity guide.  Every time a new type of fish was mentioned, I would instinctively pull out my phone and search for media to better explain and learn about a topic like, "mimic octopus emulating a lion".
Eventually, we realized there is digital content that comes with the Cooper Kit. It was much better than the videos I could find and more concise. This alone would've saved me 20 minutes, valuable play time and attention span for my kids.
Overall Cooper & Kid Review
Social Effects on the Household
Having this object sitting by the door when I got home was a special thing. The kids had been asking to open it but were told, "You have to wait and open it with Daddy so you can enjoy it together". I only got that dedicated Daddy & me time if my wife is sick out of her mind or if she needs to be at work on weekends.
I feel most like a dad in these moments where I'm left as the sole responsible adult. It would be a shame to leave those moments to only arise due to medical emergencies and occupational mandates.
Intentionality
I consider myself quite the hands-on dad, yet I'm always pushing to be intentional about making dedicated time to do activities, read, learn, teach, play with them. Time passes swiftly, so I was glad to feel that I was equipped to whip out something for us to do together for 15 -45 minutes as we worked through this kit throughout the month of August.
Summary
It took me a full month of playing, but I'm a fan! If you're picking through each items' cost to calculate the value, you really are missing the point. I fell into that camp initially, as I'm not big on subscription boxes. I tend to dodge the convenient tax. However, the social aspect the box brought blew me away. A box on the porch that shouts, "This is for daddy's isolated time with the kids!" That feeling meant a lot more to me than the price tag.

What do you think?
Comment below and let us know what you think about this review. Do you buy any subscription boxes?
Disclosure: Cooper & Kid offered this box in exchange for our opinions and feedback. This article contains affiliate links. Fundraising goes towards hosting events, providing content, and reaching out to more dads.