Fishing is a top American pastime and Howard County has no shortage of lakes to take your kids out and have a great time. Experienced angler dad, or learning along with the kids, use this advice to make the best of your first Howard County fishing trip.
Kid-Friendly Gear
Tip 1: Small Hooks, Small Fish
Use small hooks (size #8 to #12) to target bluegill and other sunfishes. The Bluegill is great for beginners because it's small in size, found close to shore, and will bite at anything. 
For safety, crimp the barbs on the hooks to protect your kid's fingers. Hook the bait yourself and explain to the kids that the hooks are sharp and should be handled carefully.
Tip 2: Gather Your Own Bait
Have a little fun in the backyard and dig up some worms. There's no need in buying them when you can make another activity out of it. You only need a couple, because you'll be cutting them to fit small hooks. Not your kind of thing? There are plenty of alternatives.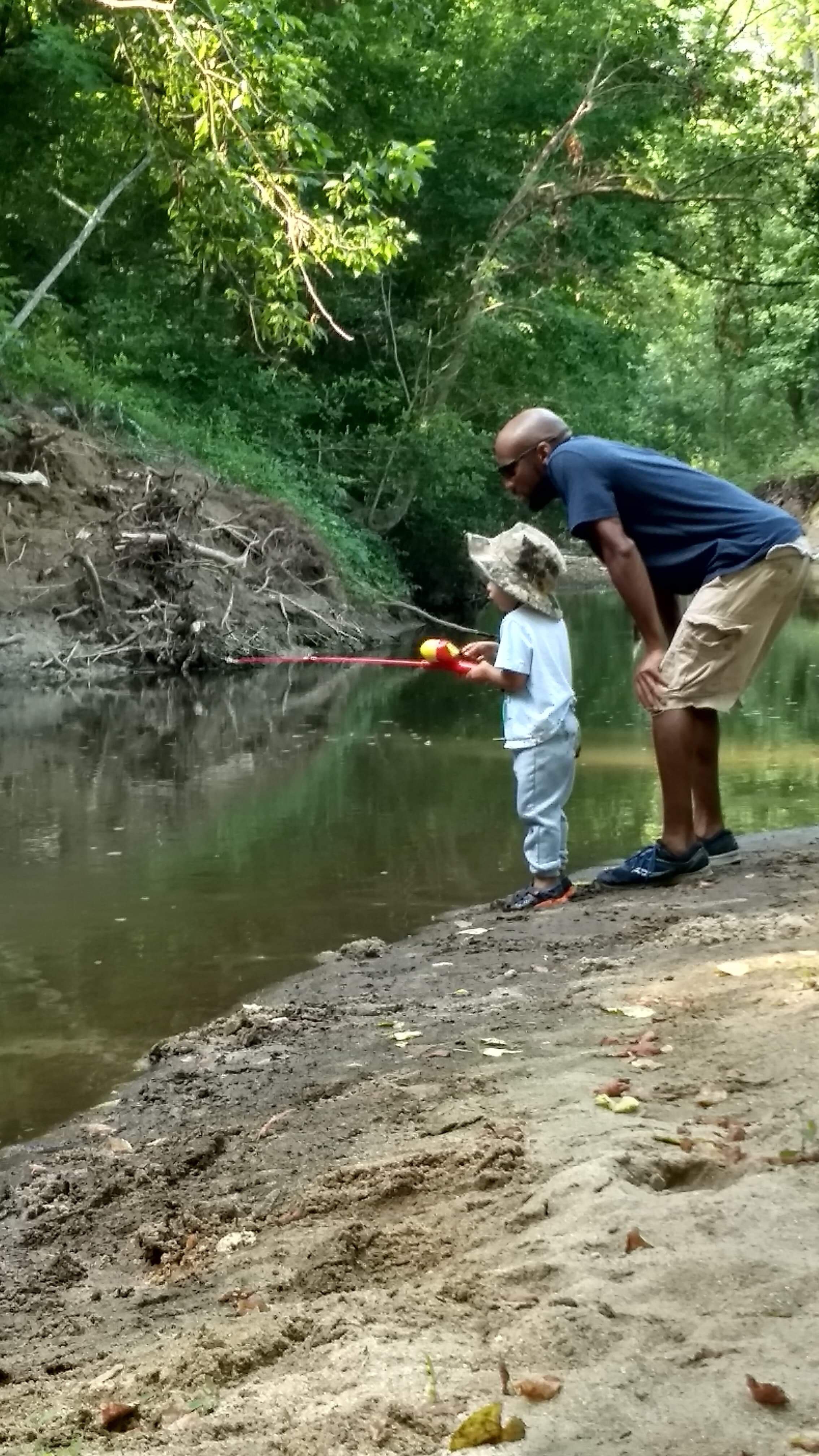 Slice of bread: Crumble the crust to attract fish & make a tiny bread ball to place on the hook.
Corn: a few spoons of corn from the dinner table. Hook just one kernel at a time.
Artificial Bait: scented soft baits are a simple option. We keep this maggot soft bait in the trunk to go fishing on a whim. 
Bring them all and see what's getting bites.
Tip 3: The Cartoon Fishing Rods Aren't Toys
Parents often ask if the cartoon themed rods are just for play. They're not, we've now caught dozens of fish with our Olaf fishing rods.
They usually come with a little rubber fish. Use this rubber caster to practice casting in the yard. After a few days of practicing on the deck, our kids were casting 25 feet and urging me to take them 'real fishing'.
Tip 4: Bring a bucket
Bring something to hold fish for a few minutes before releasing them back. When pier fishing at Kittamaqundi, we use a fishing keep net to lower the fish we caught back into the water and see how many we can collect.
Favorite Fishing Locations
Let's take a break from the tips and highlight some kid-friendly fishing spots. We're looking for easy access, close to a bathroom, and amble shade. A playground nearby is a bonus.
Lake Kittamaqundi: tops the list with easy access to mud-free pier fishing. We often park in the parking garage next to Whole Foods and walk down to the lake, right next to the paddle boats and statue.

Lake Centennial: turn away from the lake and there is a place to play, making this a great place to go with kids. It's also stocked with trout in the spring & is known to have trophy bass. 
Wilde Lake: I've seen a 4-5 inch bass pulled out of this lake. The dam walkway is a great place to drop the line into deep water where fish hang out. 
Patapsaco River: with so much bank access, a lake restricted to youth and senior anglers and trout stocked by the state, this is a top spot to learn and perfect fishing. 
Heading Out

Tip 5: Go Early or Late
We spent a whole season going out 10 AM to noon and catching nothing. My kids weren't happy with me. Especially on hot days, the fish aren't biting during the day. Get out there before 9 AM or after 6 PM. We caught 5 fish in 20 minutes when we made it to Kittamaqundi by 8:30 on a Saturday.
Tip 6: Don't Stay Long
If you're planning on staying out there longer than 45 minutes, you're kidding yourself. Once they lose interest, keep it moving. Don't force them to stay out on the lake for hours, they'll dread it and won't want to come back.
Tip 7: Stay Close to a Playground
If they lose interest, let them go play. Maybe take breaks. When we're not close enough to a playground, pick a spot with an open play area for them to run around with a ball or frisbee.

Tip 8: Make it Comfortable
Bring camping chairs and snacks for the kids. Let them cast, then relax and enjoy some cereal. It can also be used to crumble up and use as chum to attract fish. Once we threw cereal and attracted some ducks at Centennial. No fish that day, but it made it worth while.

Tip 9: Don't Plan on Fishing
Bring your gear if you'd like, but you'll be busy helping them. Reduce their down time by baiting their line and fixing snagged and tangle lines. You may even want to cast for them. Some parents will get a fish on the line, then let the kids do the fight of reeling it in. Let them enjoy the fun part!
Tip 10: Don't force it, just have fun.
It can easily get stressful for you as well as the kids. Don't worry. Enjoy the time outdoors and have a good time being together. Best thing that can happen: you get an awesome fish story. Worst case: you let them play in the mud. Win, win.
Other Things to Know

Regulations
Kids don't need a license to fish until they're 16 years old. You technically don't need one if you're not doing the fishing, but they are really easy to obtain. Purchase one online (https://compass.dnr.maryland.gov/) or pick one up at Walmart or Dicks Sporting Goods.
If you want to take fish home, be sure to know regulations (catch limits, etc). The DNR page will have that information (plus a map of fishing areas, other resources).

My First Fish Certificate
Be sure to download and print this certificate from Maryland's Department of Natural Resources. It's a certificate with the angler's name, date, species caught, and length to commemorate the event. Dad, you get one for your first fish too!
Let's Hear It
Where are your favorite places to fish? What other tips do you have?
Do you have any memories of teaching or being taught how to fish?
Keep an eye out on our calendar of events for our next fishing outing.