In the search for something to keep our fidgety kid engaged and in place during virtual schooling, we came across Active Chairs by Studico. They're wobbling stools designed to keep active kids engaged and focused while balancing in place. Their company sent us a few of them to try out and giveaway to one of you. Check out my family's review below. If your family wants to give it a try, sign up for the giveaway or order one online.
Our Take
I'll just lead with our bottom line. They're a great addition to the kids' workspace. The price seems like a splurge, but for the hours they'll spend sitting in front of their Chromebooks, it is worth it even after a month of use, better yet a full school year.
The Kids
They both like them, even our less hyper son took to it. It's more fun to wobble and the textured seat and base are a nice addition too. Just watching them work shows that they enjoy it. They're always spinning, wobbling, balancing and most importantly, staying locked in.
The Parents
We got them to keep our hyper kid engaged, but it just made sense for both of the kids. They also get perks we didn't expect like their core being exercised and posture improvement. Active Chairs goes on about the benefits of 'active sitting' in their blog.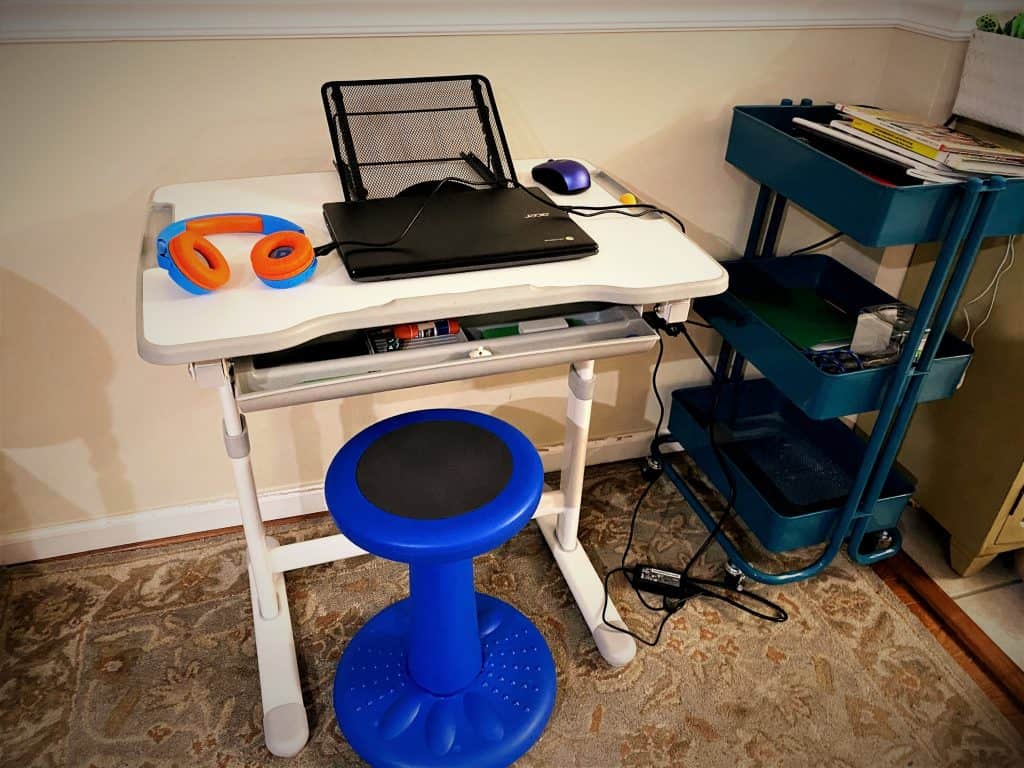 Variety of Options
They come in three different sizes and have a lot of colors available. Inventory availability seems to change with the high demand, so keep that in mind.
Sizes
We went with the 14" for our 1st grader & the 17.75" for our 2nd grader and they worked out to be good fits.
10" Size – recommended for:

Ages 2-3
Kid's Height 33-41"

14" Size – recommended for:

Ages 3-7
Kid's Height 42-49"

17.75" Size – recommended for:

Ages 7-12
Kid's Height 50-61"
Assembly
It comes in three sturdy pieces. It was simply just pushing the post into the top & bottom pieces. Easy as that. To take them apart it required some 'dad strength', which is good. They won't fall apart or get loose too easily.
Where to Buy
They're available on Amazon but also for sale directly from ActiveChairs.com. The prices are similar or slightly lower on their website & both are free shipping. If you can't find the color you want, check the inventory \at both sites before settling.
Giveaway Signup Form
[contact-form-7 id="30408″ title="Active Chair Giveaway"]